Pen Engraving Service
We're pleased to offer a pen engraving service to complement your purchase, making your gift truly special. We use a computerised machine to produce your engraved pen, providing a pinpoint-accurate finish. Most pens are engravable, and are clearly marked with the 'can be engraved' symbol.

How does the Engraving Work?
| | |
| --- | --- |
| We use a state of the art laser engraving machine which gently etches away the top layer of the pen to reveal the base metal underneath. Lacquered pens generally have a brass metal underneath, and will therefore have a gold finish. Silver pens on the other hand produce a two tone effect. | |
Each pen has a limit to the amount of characters we can engrave due to its size and curvature. Look out for the character limit on each product page. We offer 3 different fonts for engraving: Calibri, Roman and Italic. If you choose the Italic font, it is not recommended you choose an engraving message all in capital letters (other than initials). Roman however, is fine if you'd like your message all in capitals.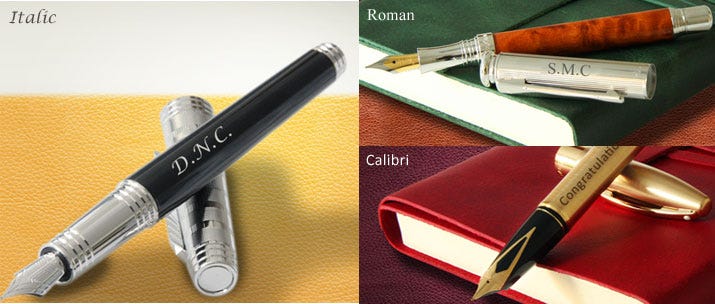 Most of our pens can be engraved. Look out for the 'Suitable for Engraving' badge.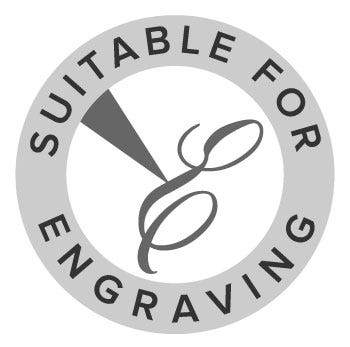 How much does engraving cost?
The cost per pen engraving is £7.00. If you're buying a 2 pen set the cost of engraving is reduced to £10. If it's a 3 pen set the cost is £12.00.
Engraving Preview
As you type in your message, you will be able to view how it will appear on your chosen pen. The message preview shows the approximate size, colour and position of the engraving. Please note that the preview is an indication, and exact results may vary.
Click the 'Add Icons to the Engraving' button to open a pop-up which shows the most popular symbols you can add to your engraving.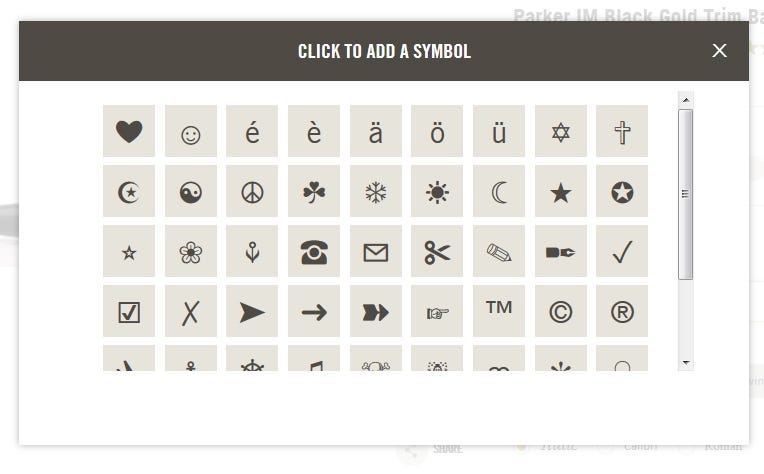 Why choose Pen Heaven for engraving?
Speedy service - place your order before 3pm and we'll dispatch your engraved pen the same day. It's as simple as that.
Free UK delivery - if you need your order urgently we also offer premium and next day delivery options for an additional fee.
All engraving is done in-house - you can rest assured your order will get the personal attention it deserves.
Talk to an expert over the phone - if you have any additional queries regarding our engraving service, one of our friendly team is standing by to help you. Give us a call on 0208 731 8610.
Customer reviews - we've partnered with Feefo who publish unedited, transparent reviews on behalf of our customers. We strive to use this information to continuously improve our service. You can read all of the reviews here.
We hope this answers all of your questions. If you require any more information do not hesitate to call us on the number above or email [email protected]