Which Pen Brand is For You?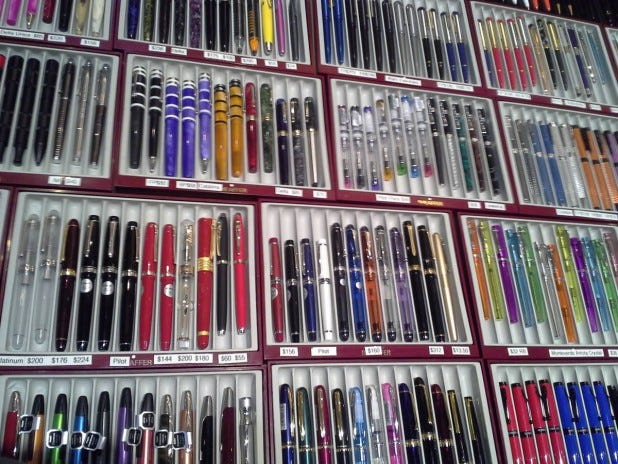 Which Pen Brand is For You?
What makes the brands different? Why choose Worther? What's so great about Parker? Is Sheaffer better than Cross? You go to buy a pen and unless you're a real stationary buff it can all get a bit confusing.

You think to yourself:
'What makes the brands different?'

Or

'I really want a great mechanical pencil. Which brand does those?'

Or

'There's just too many choices!!'
Here at Pen Heaven we wanted to impart some wisdom and ease that pain. Take our quiz and find out which brand is right for you!
INNOVATION & QUALITY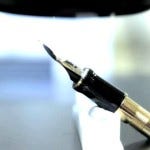 Quality Control by Parker
Parker's technical innovations
speak for themselves. George Safford Parker (Founder of the Parker Pen Company) once said "Make a better pen and people will buy it". Parker Quink ink uses alcohol instead of water as its base to speed drying time and decrease smudging.
Lamy has innovation in their blood. Considered the writer's pen for the smooth style and ergonomic features,
Lamy
drive themselves through constantly improving their pens. Function is paramount!
Fisher Space
have taken innovation to the next level with their ballpoints that will write anywhere. Upside down, under water, on grease, on wet paper, in zero G, and at extreme temperatures. Plus, if you're a forgetful soul whom always leaves the cap off then this is the brand for you as the state of the art ink is guaranteed to never dry out.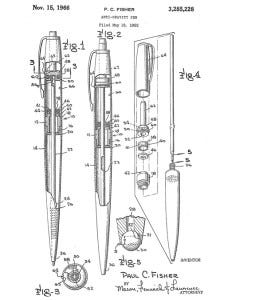 Construction of a Ballpoint Pen
Cross make reliable, trust-worthy, professional pens. They stand by every pen they make with a life-time guarantee against manufacturing defects.
DESIGN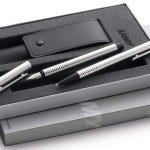 Lamy Logo Pen Set
Lamy has made a name for itself through modern minimalist design. Their sleek simple lines exemplify the Bauhaus principle of functional design. Form follows function. Couple this with Lamy's brushed metal or brightly coloured barrels and you've got a design success!


Fisher Space's styling matches their name perfectly. The rounded bullet shape and futuristic barrel finishes make these pens look like they arrived from outer space. Their compact size is great for hand bags and pockets.
Cross pens are timeless, with signature shiny chrome finishes and touches of luxury highlighted in their gold and silver pens. You'll find all the signs of art-deco inspiration with these pens.

Waterman is elegant and sophisticated. Their inspiration flows from aviation and sailing, full of gentle curves and French je ne sais qui.

Parker are the pioneers of pens made for more than just function. They may not have bags of flair, but they have robust features, and simple appealing style.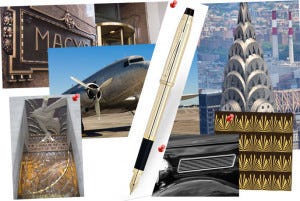 Influence of Art Deco on Cross Pens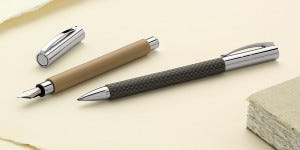 Faber Castell Ambition Pens
Faber-Castell and Graf von Faber-Castell use classic simple designs, with a range of materials including wood, resin and precious metals for their barrels. The high shine finishings on all their pens add a touch of sparkle. They've got luxury, designer label written all over them.

Sheaffer pens have a chunky style and heavy weight behind them. Their signature cigar shape is rather masculine too. Sheaffer also do a range endorsed by Ferrari for anyone whom loves sports cars.
HERITAGE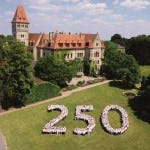 Graf von Faber Castell were the world's first brand name writing instrument, with the company dating back to 1839. Plus, they were the first to create lead pencils encased in wood. Faber-Castell and Graf von Faber-Castell are still family owned and run.

Cross are America's oldest pen brand. Founded in 1846, they created the ancestor of today's mechanical pencils.

Lamy have a surprising amount of heritage for a young brand. The International brand of Lamy, comes from origins in 1930's Germany and the Orthos Füllfederhalter-Fabrik company, which rebranded to C. Josef Lamy GmbH after WWII to mark the start of a new era.

Fisher Space began in 1945 with the simple aim of improving ballpoint reliability. Over a million US dollars were put into the research and development. In 1968 the Fisher Space pen was endorsed by NASA.
Waterman began life as the Ideal Pen Company in 1884, before being renamed in 1888. They created some of the first pens with clips, to hold pens in your pocket.

Parker are known the world over and so they should be. They're a great brand. Founded in 1888 they've been making quality pens ever since.