Embossing Service
We offer a bespoke in-house embossing service to make your journal or notebook a cherished gift for years to come. We use a hand operated embossing machine that utlises heat and pressure to create an impression in the leather, which we can then fill with silver or gold leaf.


What Styles do You Offer?
We offer blind embossing which uses an impression to create a colourless yet elegant finish. We also offer a silver and gold finish, where we insert silver/gold leaf into the impression.

Will Embossing Delay My Order?
No. All orders with an embossing placed before 3pm are despatched the same day. This is because we do all embossing in-house.
What Can I Emboss?
You can emboss lowercase and uppercase alphabetical characters, as well as basic grammatical characters. If you choose initials, you can emboss between 2 and 5 characters. The character limit varies for one line and two line, depending on the journal size (please check individual product pages)
Most of our leather and faux-leather products can be embossed including; journals, wallets, pen cases, personal organisers. Look out for the 'suitable for embossing badge'.

Where is My Message Embossed?
Typically it is in the lower right hand corner. Please check the embossing preview on each individual product for a more precise position. If you would like to discuss alternative embossing message positionings or want some friendly advice, call our expert customer services team on 0208 731 8610.
Logos and Corporate Gifts
We can emboss logos on most of our leather and faux-leather products. If your order value is over £250 there is no set up fee. If you would like just a few journals with your logo, there is a set up fee of £50. Please call us on 0208 731 8610 for more info.

Our Embossing Machinery and Equipment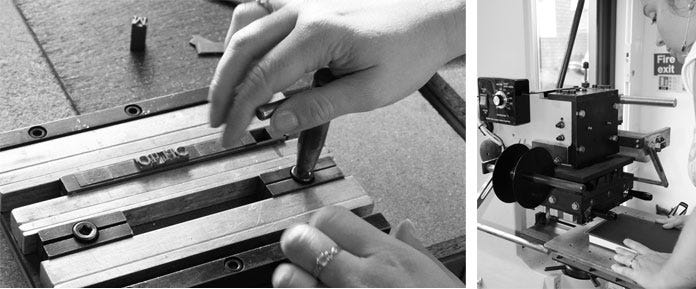 Bestselling Products We Emboss