The Pen Gift Guide: Who are you Buying for?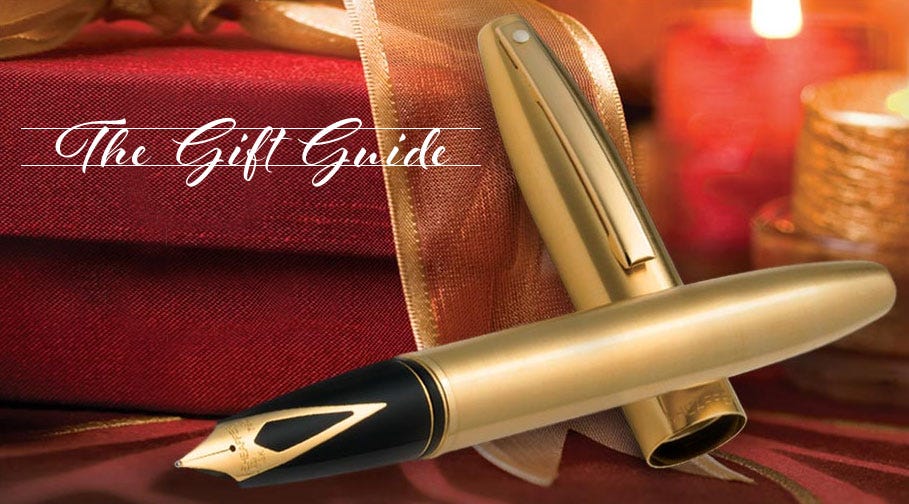 The Pen Gift Guide: Who are you Buying for?
Buying a pen for someone else can feel daunting, given the huge choice and personal nature of a pen. The author Paulo Coelho described the pen as '….an extension of the writer's hand and desire'. It's therefore important to think about your recipient to get it right.

Are they a ballpoint or fountain pen person? Should you go for a classic or modern design? In what colour? All these questions can be answered by thinking about the person you are buying for. To help you we have prepared the most important questions you should ask yourself about the recipient.
Are You Buying for a Man or Woman?
HIM:
Men generally prefer a chunky pen barrel, which is easier to grip in a larger sized hand (such as Montegrappa Fortuna or Waterman Carene). A weighty pen also has a more solid and secure feeling, offering a greater sense of control.

If you don't know the man well, it is a safer bet to go for a classic design and finish such as black lacquer or stainless steel, as most men are risk averse.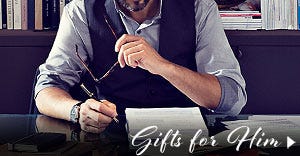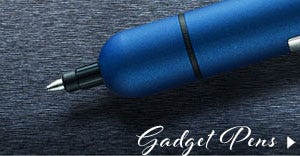 HER:
Slimline pens (such as Waterman Hemisphere) suit a more feminine hand, offering an elegant look and greater control (for the smaller hand). Slimline pens are also lighter weight, which is useful if the pen is going to be carried in a small bag (and in that case we would recommend a ballpen as it has minimal risk of leaking). Feminine colours such as pink and pearl are very popular, with many brands releasing pens in the popular rose gold colourway. A good suggestion from Andrea Kirkby is to match the style of the pen to her handbag.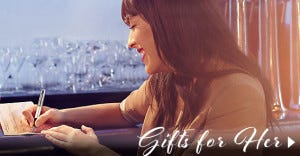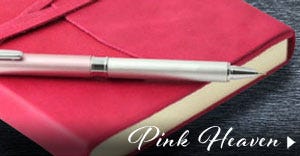 How Old Is the Person You Are Buying For?
We firmly believe you are only as old as you feel!

Having said that, if you are buying a pen for a child you may want to consider a pen with an ergonomic design (encouraging the child to hold the pen correctly and reduce writing strain). The Lamy Safari is highly recommended for children, with a robust design ideal for extended periods of writing. Similarly for someone older, a lightweight and ergonomic pen is a good match (especially if they have arthritis), such as the Yoropen or Faber-Castell Grip. Older people may also find chunkier pens easier to hold.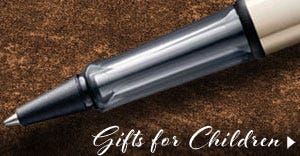 What Does the Recipient Do for a Living?
This could be where the pen is used most of the time. Ideally the pen should match their job and working environment.

A smart pen is suitable for a typical corporate environment, showing your colleagues you mean business and pay attention to the finer details. Traditional brands like Graf von Faber-Castell and Cross exude professional appeal. Some jobs require official documents to be signed (e.g. doctors, directors, lawyers), and we think a fountain pen has the appropriate 'air of authority'. The president of the USA uses a Cross Townsend and the Queen a Parker 51.


"I'm not one for ostentatious treaty-signing type pens
but I do think in business making an effort with the little things
sends out a signal that you are serious about what you are doing."
- Nick Hewer, in an interview with the Daily Express
Teachers and students write for long periods, and so comfort will be of primary concern. Designers and artists will value cutting edge design and modern aesthetics, from brands such as Worther or Lamy.

Those lucky ones who travel a lot for work may prefer a pocket sized pen, and a ballpoint pen as they are less likely to leak.
What Is Their Sense of Style?
A pen is not only an extension of our hands, but also our sense of style. Is the recipient flamboyant, reserved, bohemian, fashion conscious, gadget-obsessed? Look for colour, pattern and overall design to match a pen to someone's style.


Do You Want to Engrave the Pen?
Engraving the pen adds the personal touch, making a truly special gift. But do you want a subtle or bold engraving? Chrome pens produce a subtle 2 tone effect, whilst a lacquered pen produces a more striking finish. Engraved initials are understated, whilst a full line of text allows a really personal message (but may detract from the pen).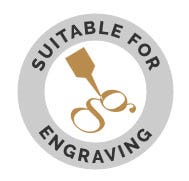 Look out for our engraving symbol in the upper left hand corner of the product image. This indicates a pen which is suitable for engraving.

We recommend using an italic font as it is the most decorative and popular. Roman and calibri fonts are better suited to business gifts or pens with modern, contemporary styling.
What Is the Occasion for the Gift?
Feather quill pens make a beautiful gift for a wedding, whilst a sterling silver or gold fountain pen is well suited for a landmark anniversary.

On the other hand a gift for a work colleagues or associate could be smart and classic (with a good area for engraving if you want a company logo).

What is Your Budget?
We saved the most important question for last. Use the price filters on category pages to search within your chosen budget.