Fountain Pens: Teachers Take the #BackToBasics Challenge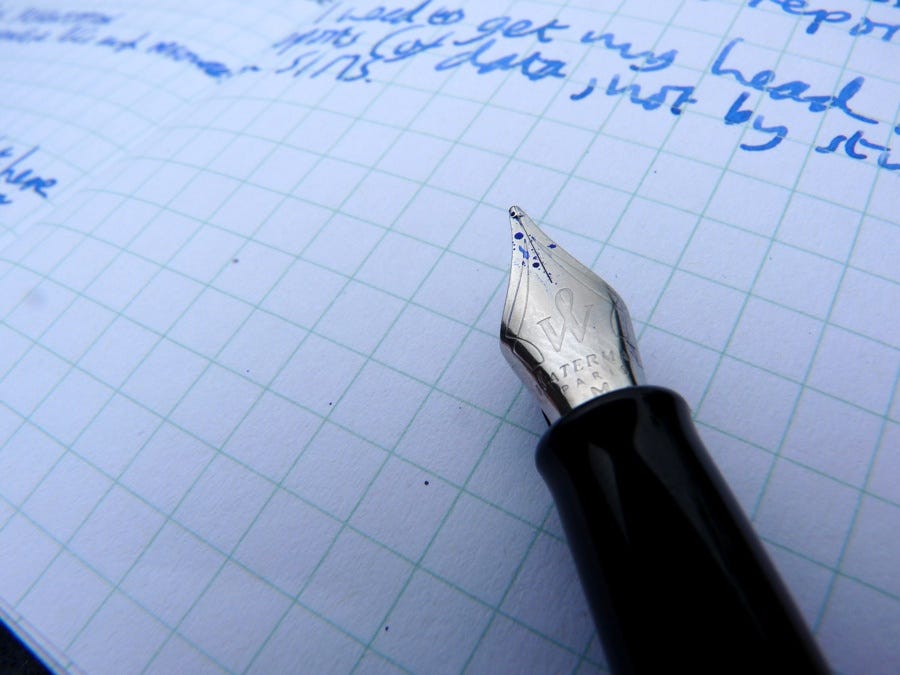 Fountain Pens: Teachers Take the #BackToBasics Challenge
Here at Pen Heaven, we've always believed there's no such thing as too many pens. Our own stationery drawer is packed full of endless variations on ballpoints, rollerballs, pencils and fountain pens, ink types galore, more refill systems than you can shake a BIC at and that's before we even get started on multifunctions. But it wasn't so long ago that fountain pens were the be-all and end-all. So we asked the question: can you go back to basics and stick to just one fountain penfor a whole week? To really take the fountain pen to task, we turned to the teaching profession, where the need for fast, efficient written communication has led to some teachers gathering some rather impressive arsenals of stationery. A daunting task, perhaps – and in the end, only three pioneering pedagogues were brave enough take on the Pen Heaven #BackToBasics Challenge. This what they found.  
Teacher #1: Mr Curtis
Subject: English
  Chris Curtis describes himself as a die-hard biro user, so we sent in a hit squad. Just kidding – we sent him a Parker IM. So Chris, what did you think? "After a few instances of 'get you being posh writing with a fountain pen', I started to really enjoy it. As a child I avoided fountain pens because I seemed to get more ink on my hands than on the page, but as an adult, a fountain pen made me write slowly and clearly." Chris also found the experience made him reflect on his handwriting. "I often get students asking, "Sir, what does this word mean?" The problem: the letters are joined up. A student's reluctance to decode handwriting is a reflection of how technology has shaped the way we see things. Handwriting is slow, but in an age where everything happens at the click of a button, it is only right that we make students slow down and think. We want them to craft an idea and not blurt the first thing that comes to mind. "My week with a fountain pen has taught me that there is more we can do in schools to raise the status of handwriting, especially the reading of it and the frequency of its use." We're with you on that one, Chris.
Verdict:
"Fancy implements make better handwriting. I am off to buy a quill and some parchment now. Maybe, if Shakespeare used them, I could be as good as him."
Teacher #2: Mr Hedley
Subject: Mathematics
Ian Hedley somehow manages to fit drawing and stationery blogging around his teaching job, so we weren't surprised when he leapt at the chance to use a Waterman Hemisphere for a week. "I use a fountain pen quite often - mostly for planning out my week, taking notes, and I also often just *write* when I'm stuck. I find it helps me become unstuck." So what did he do differently for the challenge? "Well, I marked students' work with a fountain pen, instead of in a variety of colours with a Pilot Coleto. This wasn't ideal when students write in blue themselves, it needs a contrasting colour." Ian did find, however, that the Waterman came in handy for sketching out explanations. "I work in a Pupil Referral Unit where most of our teaching is done sat next to students. It was simple enough, and quite enjoyable, to use a fountain pen instead of a gel ink pen. There were times, though, when I could have done with using an extra-fine nib but other times when the medium nib was perfect. One nib for all tasks is difficult. But not as difficult as using the same penevery day. This is torture for an addict like myself." There was one small issue though: the rest of the school's stationery wasn't quite fancy enough for the Waterman. "We use cheap paper and bleeding and feathering were constant issues. "
Verdict:
It's perfectly possible to use a fountain pen for pretty much all your writing needs. The challenge is using just one.
Teacher #3: Ms Webb
Subject: English
  Jennifer Webbused to teach in a private school where fountain pens were mandatory for all pupils, but now works with many students from low income families. "I cannot say how far this is due to a different economic background and education system, but there was definitely a higher quality of handwriting in the private school and I do wonder whether the equipment was a factor. The school equipment aimed at poor students is generally of a poor quality and tends to break easily, and I am sure this has an impact on student's attitudes to their work." Jennifer was also able to offer a unique insight on the experience of writing with her Diplomat Esteem fountain pen. "Being dyslexic, I've recently changed my own handwriting as an adult – a process that's been made all the easier by having a fountain pen. "The additional comfort of writing with a fountain pen has also made marking more of a joy – although whether the novelty will fade, I'm not sure. As an English teacher, I would say it's more convenient to have an erasable pen for marking, and I've smudged a few of my students' books because the ink doesn't dry as quickly as I work!"
Verdict:
A good-quality pen really changes the attitude and neatness of the writer. Better equipment could encourage students to take more pride in their work.
  So can a teacher use just one fountain pen for a whole week? Apparently not. Practical requirements such as fast-drying inks, contrasting colours and the ability to make corrections simply aren't possible without a range of pens to hand. But all our teachers drew positives from the
#backtobasics challenge. The fountain pen was more comfortable and pleasurable to write with, and the additional care and attention it demanded from the writer showed in the quality of their script. One even suspected that a fountain pen would bring about the same improvement in her students' handwriting as it had in her own. So it seems the teaching profession has evolved to take advantage of a whole range of different pencils, inks and pens. But nonetheless, Pen Heaven's delighted to hear there's still space for a fountain pen in every teacher's desk drawer.  
Our Contributors
Chris Curtis runs learningfrommymistakesenglish.blogspot.co.uk, a "warts and all view" of his career. Great for both teaching inspiration and witty insights into the pleasures and pleasures of teaching secondary English.
Ian Hedley runs a few different blogs. His stationery-addict self can be found reviewing pens and pencils at penpaperpencil.net/, while his teaching blog follows his career has head of a PRU. A must-read for teachers of all disciplines.
Jennifer Webb is fascinated by social media as an educational tool and technology in classrooms. If you've ever wondered just how funky teaching can be, visit funkypedagogy.wordpress.com/.
If you'd like to reuse or repurpose any of this content, please contact paul@.