Sustainable Stationery: Going Plastic Free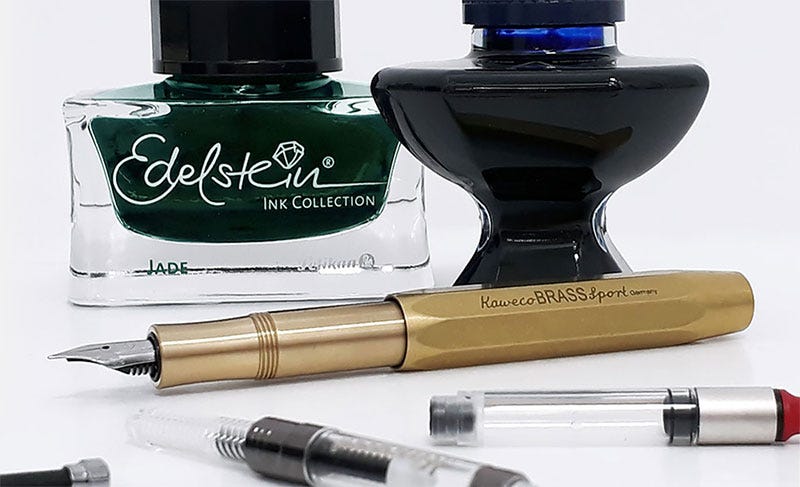 Sustainable Stationery: Going Plastic Free
How to ditch disposables to save the world
Saying no to plastic carrier bags and water bottles might be an adjustment, but if you're like most people, you're probably happily making steps to make your lifestyle more sustainable where you can. However, there might be one small but significant part of your sustainability journey that you haven't considered...your stationery.
The Bic Crystal - probably the most famous plastic pen in the world - was invented in 1950. Since then, they've reportedly sold 57 pens a second, meaning that there are over 100 billion of them in the world. How many of these are languishing in a land-fill? We'd guess a few.

It's one thing to know that old, used-up pens are sitting around in your desk drawer or backpack. It's quite another to consider the environmental effect of 100 billion plastic barrels piled up in rubbish dumps, or even cluttering up our waterways. If you're concerned about the environmental impact of your lifestyle, it might be worth considering a better long-term option than buying another packet of disposable pens.
This July, we're challenging ourselves to go plastic free, starting with our stationery collection. From saying no to plastic in the first place, to investing in longer-term refillable or replaceable tools, there are plenty of ways we can change our throwaway culture and make our stationery collection more environmentally friendly.

Here are our top three tips:
Reuse (Before You Recycle)
You can't beat the feeling of a fountain pen, from the quiet whisper of the nib as it glides across the paper to the way you can choose every almost aspect to suit your style. While a beautiful pen can be a cherished and sustainable long-term investment piece, if you're using plastic cartridges, you're still creating unnecessary waste. There are two simple switches you can make to get around this problem, so you can continue writing without the guilt...
Ink Cartridge Converters
The first is to invest in a converter - effectively a refillable ink cartridge - and a bottle of ink. A converter has an easy pull mechanism that slurps up ink, so you can use it time and time again.

Here's the fun part: the possibilities for bottled ink are endless. Play with brands and even bottles to find something that feels as good to write with as it looks on your desk. Find a rainbow of colours here.
Piston Fill Pens
The second option is to purchase a piston fill fountain pen, which already has an inbuilt converter, so doesn't take cartridges at all. As with the converters, you simply refill them direct from the bottle. These are a few that we love:
Choose Refill, Not Landfill
Pens are only one part of the puzzle. Who hasn't discovered (and thrown out) a hundred half-filled notebooks while giving their house a spring clean? If you prefer to start a thought than finish it, or if you find your jottings aren't sentimental enough to keep forever, consider investing in a refillable journal or diary. While you're still using paper, this can be recycled, and the exterior cover can be reused time and time again. You can't go wrong with these:
Ditch The Plastic All Together
If you want to skip out on plastic entirely, metal pens might be your best bet. While fully metal writing instruments may be few and far between, they're worth the hunt; with no plastic parts to degrade or break they are a sturdy option that can last a lifetime.
By making small but significant changes, we can work together to keep our planet healthy, so future generations have something worth writing about as well! What change will you make to your collection?