Overview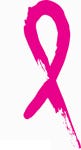 Pen Heaven is proud to present the Official Pink Ribbon Journal. The Pink Ribbon Foundation's mission is to support a large number of projects and charities which work towards providing support to those who have been affected by breast cancer, and organisations which work to improve the understanding of breast cancer, it's detection and treatment. 10% of Pink Ribbon Journal sales go directly to the Pink Ribbon Foundation.
The handmade wrap-round cover of the Pink Ribbon Journal range is made from smooth and supple Italian leather and secures the journal, protecting the pages. It is superbly crafted and the acid free plain or lined pages are ideal for recording thoughts and ideas.
Key Features
10% off all Pink Ribbon Journal sales go to the Pink Ribbon Foundation
Embossed with the official Ribbon Ribbon Foundation logo

Width 120mm, height: 170mm (between A5 & A6)
128 plain or lined cream-coloured pages. The thick, high quality paper withstands ink bleeding.
Real soft calf's leather
Made in Italy
Need it in a hurry? Can be embossed for next day delivery, (place your order before 3pm).
Embossing character limits
The character limits are shown in the text box in which you enter your message. This character limits for this journal are as follows:
Initials: 4 characters
One line: 8 characters
Two lines: 2 lines of 8 characters
Ensure you type your message exactly how you want it. For example, if you leave your message in all capitals, we will emboss it in all capitals.
Embossing positioning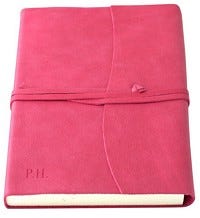 Initials
are left aligned
(click to see)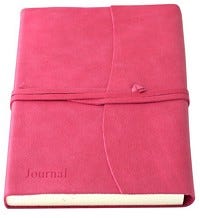 1 line messages
are left aligned to the bottom of the page
(click to see)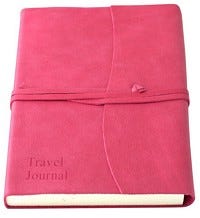 2 line messages
are bottom centre aligned
(click to see)
Reviews
Would have liked the paper to Reviewed on 24 Feb 2014

Would have liked the paper to be better quality

This review was submitted through feefo
Have You Considered?